About Us
Learn more about Clean Marine Solutions
OUR MISSION
Our systems are helping help reverse decades of environmental degradation caused by toxic wastewater flowing into our waterways.
Seeing the inherent difficulties that wastewater generators were having in becoming compliant with the Federal Clean Water Act, CMS was born. Addressing the need for affordable and easy to use systems for wastewater treatment and recycling, CMS seeks to be a client's environmental compliance partner.  We provide treatment systems and assist with permitting issues making compliance with the FCWA accessible for boatyards, marinas, and other wastewater generators of all sizes and budgets.
We have been doing this for ten years.
Our average customer spends about $300 annually on service and supply costs. We do not know of any competitor system that can beat our service and supply costs.
Our mission is also to build a system that leads the industry in removing toxins in wastewater. We also assist with permitting when required. In North Carolina, the only boatyards that are legally washing boats with a closed-loop recycle system have a VANISH System and we wrote their permit.
We build manual treatment systems for small wastewater generators that start below $2,000. Clean Marine Solutions will help you decide on the system that best fits your needs.
One size does not fit all.
David Flagler founded Clean Marine Solutions, LLC in 2009.
David majored in chemistry at the University of North Carolina at Chapel Hill. David and has over 30 years experience in the marine business as director of boat building programs and various positions that interacted heavily with the commercial side of boatyards and marinas.
His first work with clarifying marine power-wash wastewater were over thirty years ago while heading the Boat Building program at Cape Fear Community College in Wilmington, NC.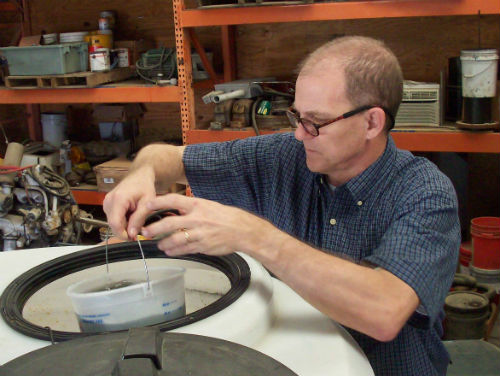 In 1995, David served as founder, director and tenured professor at the University of Hawaii, Honolulu Community College's new Marine Education and Training Center.  One of the curriculum goals was to train students and marina operators in operation of a wastewater treatment system.
David also served as the first Director of the North Carolina Marine Training and Education Center at Carteret Community College in Morehead City, NC.
In addition, David:
Served on advisory board for the International Boat Builders' Conference and Exhibit (IBEX)
Was awarded a grant in 2010 from the North Carolina Board of Science and Technology to further develop and test the VANISH prototype
Served on United States Congressman Mike McIntyre's Environmental Task Force
Served on the North Carolina Eastern Region Strategic Planning Committee
Was seminar speaker at the 2005 Conference on Marine Industry Technical Training
Published articles in MarinaDockage, Professional BoatBuilder and Wooden Boat magazines.
"We really like the VANISH system. It is so easy to maintain and operate that it is almost fool-proof. Specialty Boatworks is proud to be the first boatyard in North Carolina to have their power-washing recycling operations permitted by the NC Department of Environment and Natural Resources. Incidentally, permitting was easy. We used Clean Marine Solutions compliance template. Authorities came to our yard to observe the system and our operations. We received a letter of compliance within a week. And perhaps best of all, because the system is so easy to operate, they did not require us to have a licensed wastewater operator on staff."